Word To HTML Help - Online HTML Editor, Converter And Cleanup
Word to HTML is a tool that lets you quickly convert your text to clean HTML. You can also go the other way and convert HTML to formatted text.
To get started all you need to do is paste your text into the editor on the left, your text will be instantly converted to HTML in the right code editor, or paste your code into the right box to have it converted to text. You can also just enter your text directly into the left visual editor. If you want to clean up your code, you can tick any of the cleanup options in the bottom left. You can also use find and replace commands in the bottom right. Remember you need to click the large green 'Cleanup my HTML' button to run your cleanup or find and replace commands. Only in PRO version you can run cleanup for selected content in visual editor. Free version will cleanup all content in visual editor.
---
Table of contents
Creating and using Cleanup Templates
Upload and convert your documents to HTML
---
Using the visual editor
Once you paste or write your text in the editor, you can use the various controls to format your text. You can also insert pictures, tables, documents and links into your text.
All selected items in red are PRO features:
Restore last saved draft
No align
Clear formatting
Insert non-breaking space
Insert horizonal line
Full screen edit mode
Insert source code
File manager
Spell checker
Insert special chars
Preview
Insert table of contents
Display number of words
You can resize the editor windows as shown below: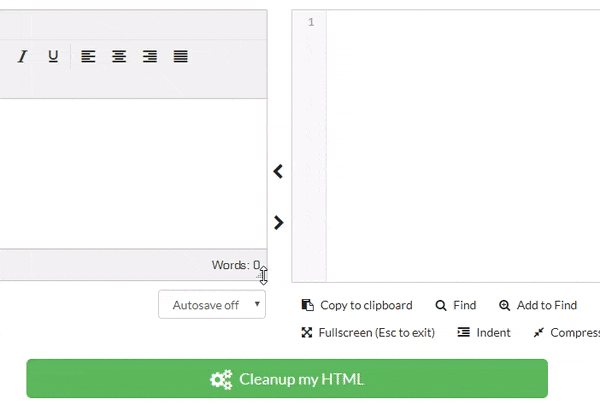 Insert or embed images in HTML
Word to HTML offers you the option to embed your images in the HTML or to store them as separate image files uploaded via File Manager. Traditionally images have always been separate files from the HTML, but a new technique lets you directly embed the images into the HTML. The advantage of embedded images means you only have one HTML file so it can be convenient when pasting into a Content Management System for example.
---
Save HTML document online
You can save your document and open it again at any time from any computer. Just click the save button as shown below. You can also choose to automatically save your work as you go along.
---
Creating and using Cleanup Templates
Once you have selected your options in the 'What would you like to remove?' section you can save these options to a template that you can then use at anytime. Find and replace commands, also the CSS styles to keep/remove and custom Javascript will also be saved to your template.
---
Find and replace
You can use the find and replace command to further customize your HTML. You can search for any text and replace or delete it. You can add several find and replace commands and also choose the order in which they run. Advanced users, can use regular expression commands to create more powerful find and replace commands.
---
HTML cleanup order
First Word to HTML removes all selected cleanup options (1). CSS to keep or remove is processed after cleanup options are processed.
Then if find & replace commands are defined it will run each find & replace sequentially (2).
At the end any custom Javascript is executed (3).

---
Upload and convert your documents to HTML
One of the most powerful features of Word to HTML is that you can upload your document and have it automatically converted to HTML. We can convert the following formats:
Word files – doc and docx
PDF files
Rich text files (RTF)
Open document format (ODF)
Txt files
Embed images - Embed images in HTML (no need to have separate image files). This option is useful for small images but use with caution with large images. The image data will be embedded in your code so your HTML file will increase in size and complexity.
Full page mode - This option adds the <head> and <body> to HTML, you need this so the page displays correctly if you create standalone HTML pages. If you are pasting into a web-based system like Wordpress, Amazon, eBay etc. you will not need this option.
Fixed HTML - If you need your HTML to look exactly like your input document then tick fixed HTML option, but please be aware that fixed layout may not look great on mobile devices. It's useful when used as standalone HTML page or when shown in an <iframe>. This option enables Full page mode option which is required to correctly display fixed HTML page.
---
Use google or other web fonts
On Settings page you can define your own custom web fonts for the visual editor.
How to define your fonts:
Go to the Google Fonts website to get your font links.
Select the font you want to use, optionally customise it and copy it's link as shown on the screenshot below.
Paste the font link into the custom font links field on the Settings page.
Enter the font name into font names field.
If you want to use more fonts just enter the font links and names separated by the # char.
Once your fonts are defined you can select them in the visual editor: